Introduction To Facebook Zero
Digital marketers and business' across the globe have been swept by the tsunami that is *que dramatic music* Facebook Zero! What is Facebook Zero? Facebook Zero is an algorithm change/initiative rolled out by Facebook in 2012 that restricted organic reach of content published from brand pages – essentially moving towards a pay-to-play system.
This is a lot more serious than it sounds. Imagine owning a Facebook page with 1 million page likes – in 2011 a brand page could post something and reach close to 80% it's fans.
By early 2014, according to an
Ogilvy
analysis of over 100 brand pages, organic reach hovered at 6 percent, a decline of 49 percent from peak levels in October 2013. For large pages with more than 500,000 Likes, organic reach hit 2 percent in February.
As of January 2018, the final nail in the coffin has been placed for organic reach with Facebook Zero reaching its final form.
Facebook's Head of News Feed Adam Mosseri stated:
"Over the next few months, we'll be making updates to ranking so people have more opportunities to interact with the people they care about. Mark outlined this in a post today."
Facebook has revealed that it is FURTHER reducing the organic reach from Brand pages meaning it will be close to impossible to read your target audience without paying to advertise. Facebook claim this is to 'reduce the amount of clutter on news feeds and allow you to see the content that matters from friends and family', however one can help but wonder if it's just another money grab.
The icing on the cake is that given the emerging importance of leveraging Advertising Spend, competition is going to sky rocket and your CPM's and CPC's could potentially shoot through the roof.
There is some good news though, according to Mosseri:
"Ads is a separate system. So in terms of this ranking change, it doesn't apply."
For those of you would be interested to see it drawn out, here it is. We know that the Facebook Ad pricing and deliverability won't change, so let's work off that.
Let's look at what we know:
The algorithm changes will increase the demand for advertising
Facebook are claiming the changes will decrease the total amount of time people spend on Facebook (however increasing quality)
The equilibrium point that is at P1Q1, will move  to P2Q2. The movement from Q1 to Q2 indicates the increase in quantity demanded of Facebook Advertising and the movement from P1 to P2 indicates the surge in pricing of Facebook Ads. Ultimately, this implies that the value provided by a digital marketer leveraging Facebook advertising will increase.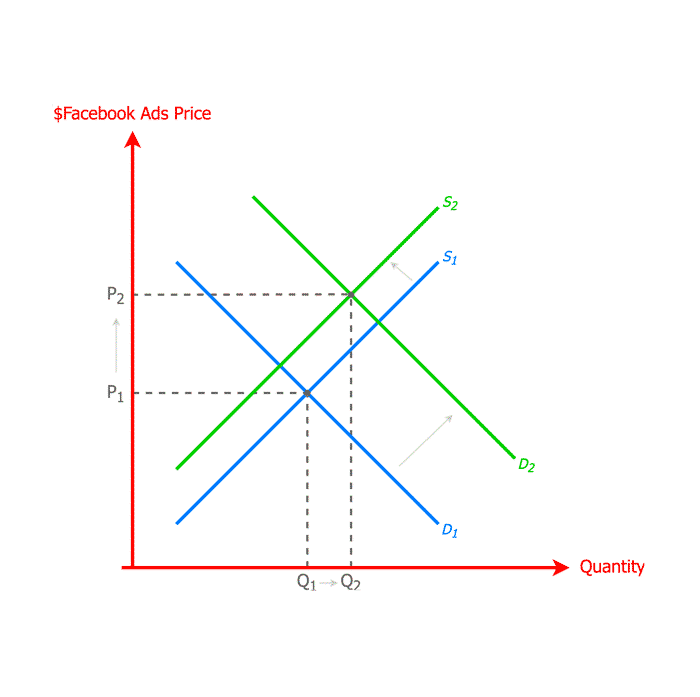 Here are a few tips you can focus on to make sure you maximise your advertising spend:
Engagement/ conversational content will be strongly prioritized by the FB algorithm – picking up copy and creative likely to spark this. Put a focus on your User Generated Content Campaigns (UGC's).
New emphasis on groups (remember you can link these to pages so use them where you can)
Data Data Data. Paid advertising is more important than ever – leveraging data through our custom pixels and reaching the right audience with the right content is a must. Get creative with your custom conversions and custom audiences – diversify and split test your campaign objectives and content types until you have enough data.
Remarketing is more important than ever – set up content funnels and qualify the perfect audience. Keep in mind that conversational content is key, so once you warm your audience up about your brand hit them hard with creative remarketing ads. Discount codes and offers will still be super effective.
Leverage UTM's and cross promote across channels. Use Google, LinkedIn, Youtube, Twitter to drive traffic to your website using UTM parameters. You can then leverage specific components of the query string to set up laser targeted remarketing campaigns – this is a great way to reduce costs and reach and audience that has previously engaged with your brand.
Video is still the most effective style of content (especially live video if you have a use-case for it). Leverage this in correspondence with the above points to supercharge your results.
Consider Facebook Messenger – if you have a brand page where users have messaged you for a promotion or an enquiry, a direct and cost effective approach to reach these users can be through Facebook messenger. You can set up ads to reach them directly as a message or to promote as a banner/ad in people messenger page.
Conclusion
Although this could pose an issue for Facebook pages or advertisers that aren't completely up to date, it's not exactly social armageddon. If you have seen a decrease in the effectiveness of your
Facebook marketing
and want to have a chat about how we can help you prepare for what has come, fill in the form below for a free consultation to get started.
rescue yourself from facebook zero